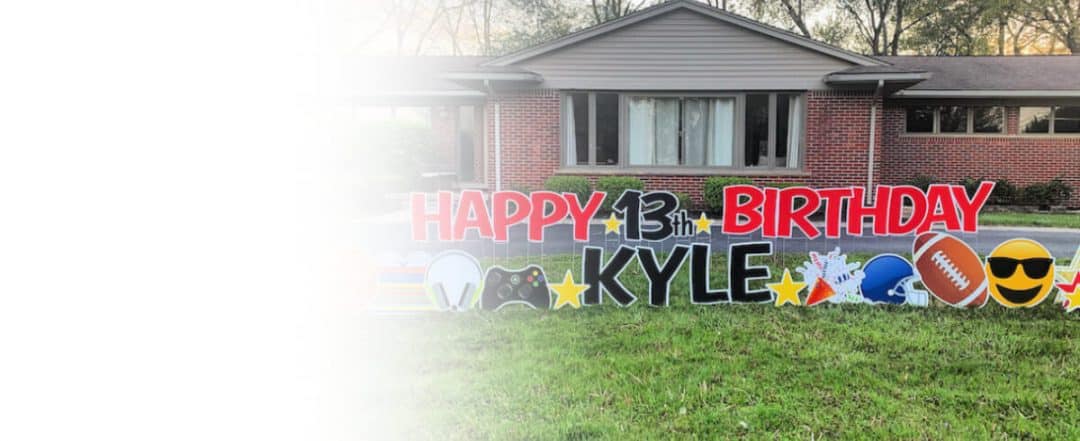 Need sign ideas?
Click below!
Yard sign pricing & service areas
Family operated small business, serving Fair Lawn, NJ and surrounding areas. Once your request is submitted you will receive an email with available greeting options for your choosing. We typically respond within 48 hours. *Please call or text for Rush Orders.
$85 - Standard Birthday Greeting. Includes (1) HBD color, (1) name, age and side graphics.
$85 - Base rate for "Say Anything" Custom Greetings - Happy Anniversary - Welcome Home - Baby Showers & More. Price varies per request.
$35 - Daily Rate after 1st Day for "Standard Birthday Greeting". Price varies for additional names, custom greetings and if more than one greeting is installed.
$35 - Rush Fee: Applies to Orders Requested or Settled for Same Day or Next Day Orders.
$30 - Base Rate for Additional Names (twins).
$TBD - Travel Fee will apply for bookings over 12 miles from Fair Lawn, NJ.
$50 - Events on the following days... Easter, July 4th, Thanksgiving, Christmas Eve, Christmas Day, New Years Eve, New Years Day.
$95 - CONGRATS, NAME & YEAR
$105 - CONGRATS, NAME, YEAR & #FHS (school abbreviation)
$TBD - Custom Grad Greeting - Price varies.
$$$ - Standard additional rates apply as Birthday Greetings for extra names, extra days, travel, rush orders and Holiday dates.
CANCELLATIONS & REFUNDS
-
- Greetings are typically installed rain or shine. In the event Sign Dreamers of Fair Lawn cancels at any time, a full refund will be provided.
- Date changes are accommodated at no additional charge and are based on availability. If the new date is unavailable, we can provide other available greeting options or provide a full refund, if notice is prior to 72 hours before setup time.
- Cancellations within (72) hours will be refunded 75% of their total transaction.
- $35 RUSH FEE CHARGES ARE NON REFUNDABLE
*All greetings include side graphics
**PLEASE NOTE: Payment is due once all details are finalized and Invoice is delivered. This will confirm your reservation.
Sample Yard Signs
Want to make someone's day? The greetings from Sign Dreamers of Fair Lawn, NJ are sure to bring a smile... no matter the occasion!
FAQ
We make renting yard signs simple.
Enter your recipient zip code below to get started!