Happy Birthday Yard Signs
---
---
---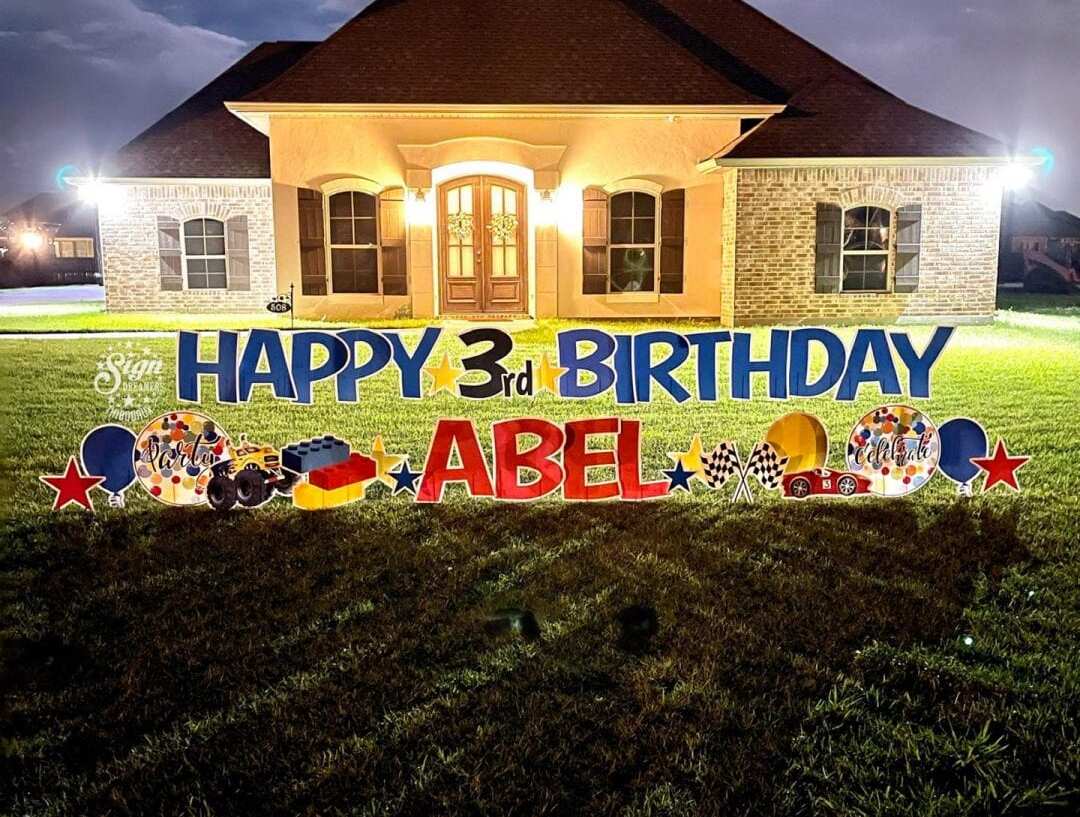 ---
Would you like to book the perfect personalized Birthday Yard Sign for someone special?
If the answer is YES, book now! We would love to design and deliver you an amazing personalized birthday yard sign.
Our customizable birthday yard sign rentals book up quickly! Please reserve your date so we can set aside the signs and graphics you want before it's too late! We have a wide range of graphics to fit your special someone's sports, hobbies, likes, interests, and more.
Birthday Yard Sign Reviews
Check out a few of our Happy Birthday Yard Sign customers!
---
Sign Dreamers did a beautiful install for my daughters 13th birthday. The install was quick, quiet and beautifully arranged on my front lawn. I will be a repeat customer!
Charline Gilbert R.
04:39 08 Sep 23
Sign Dreamers did a fantastic job on the yard sign for my mother's 80th birthday! My mother loved it! The people placing the sign even asked my mom not to peek until they were finished. Then they knocked on the door when they were finished so my mom could see it. I will definitely use them again. Thank you for making my mom's birthday extra special.
Beautiful sign display for my twins 7th birthday, Thank you so much! They loved it.
Crystal N.
21:19 24 Apr 22
I highly recommend Sign Dreamers!! Kate Brown did an excellent job of setting up my daughters sign for her 7th Birthday!! She made sure beforehand to find out the type of things my daughter was interested in and her favorite colors so she could be sure to personalize the sign with all of my daughters favorites! She did an amazing job at setting up the sign the night before my daughters birthday and was prompt in taking it down the day after my daughters birthday!! My daughter was so excited to see the big sign in our yard on her birthday. I absolutely plan to use Kate again in the future for both of my daughters birthdays.
I highly recommend Sign Dreamers very prompt and excellent communication. They exude premiere customer service. My daughter celebrated her 14th birthday today and they really made her feel special. We are a military family and will be giving them so many referrals. Thank you they made her feel extra special today she loves it
Jeannette C.
21:41 21 Nov 21
A wonderful way to celebrate my wife's 50th birthday. They came early in the morning to surprise her when she woke up. She loved it.
We are so happy with your services! My son loved his Birthday gift..
Highly recommend Sign Dreamers, made sure our Happy Birthday message in the yard could withstand the winds today!!
Cathy Pint B.
01:41 17 Sep 21
Sign Dreamers went above and beyond for the yard sign for my mom's 86th birthday. The worked around my schedule to ensure the sign was placed in the yard when we were not home. When we got home and my mom saw the big, beautiful, and colorful sign in the yard, she started to cry (tears of happiness). They definitely helped to make this a truly memorable and special birthday for my mom!
We Absolutely loved this!
Amy listened to what I wanted for my daughters 16th birthday and completely nailed it!!! I snuck out while they were setting up at 10pm at night and watched them work. So fun.
Highly recommend making someone's day with this gift or just embarrassing your teens with this giant yard display on their birthday.
🤩🤣🥰🌟🥇⭐️❤️🥳🌸🎨🎼🎬
Danielle Schmit K.
19:16 30 Aug 21
Thank you so much for the quick response! This was a fun surprise for my sweet hubby since I couldn't be home for his birthday!!! Definitely using y'all again!!
Farrah Fannin G.
09:48 16 Aug 21
Sign Dreamers of the Black Hills do an amazing job! My family and I have used them for multiple events and have enjoyed every one we have done (birthdays and fathers day) and just booked another one for Father's day. I can't say enough about their dedication to these signs that make lots of peoples day.!!
Omg sign dreamers is amazing. They did happy birthday yard sign for our son and it could not have been more amazing. They came and put it up in the middle of the night and didnt even make a sound. He loved it. Thank you so much for helping us kick off his 15th birthday!
Darlene M.
16:46 09 Apr 21
We LOVE our yard sign for our birthday boy! They were very punctual & accommodating to our requests. I will be using Sign Dreamers again💙
Ikeyonia D.
16:29 11 Mar 21
Sign Dreamers helped to make my daughter's birthday so special! They communicated regularly with me and the process was so user friendly! This was a great addition to her birthday celebration and no work for me!
Sarah Cherry L.
00:28 04 Mar 21
We were fully expecting our order to get cancelled from the cold & all the snow but Brandon showed up & did not disappoint!!! Sorry you froze but our birthday girl was extra surprised!! Thank you!!!!
Big shout out to Sign Dreamers of Chester County, PA! This birthday greeting was put up last evening after 12" of snow fell two days before. I HIGHLY recommend using this small business!
Joan Laufer W.
22:34 03 Feb 21
They did such a great job surprising my daughter for her 18th birthday. I was very pleased with everything, the attention to what her hobbies were to customize to her liking, and the whole set up and take down process, great job!! I highly recommend!!
I called 2 nights before my dad's Birthday 🥳 and they came through !!! My dad loved it ❤️😊
I would recommend this company to anyone who wants to have some fun and celebrate a love one ❤️🥳
Jennifer M.
00:03 14 Jan 21
I just want to thank Brandon & Heather for making my mom's birthday a little extra special! She has been cooped up in her apartment due to Covid and a broken hip. Brandon went above and beyond placing the sign in just the right spot and she woke up to see her birthday message and it made her day. He even made a pig with wings! I highly recommend them!
Lisa Kronauge O.
17:01 11 Jan 21
Sign Dreamers did an amazing job for my daughter's 18th birthday which happened to fall on Thanksgiving. The time and care taken to set-up the display was evident in the final result. I would highly recommend 🙂
Kay Mausbach D.
14:59 02 Jan 21
I don't typically write reviews. I'm a pretty easy customer to make happy in general. But I'm not always WOWed either. And sign dreamers is a WOW experience. From the minute you make contact with the company. I've spoken with Michelle, Chris & Chrissy and every single one of them is so warm, professional but friendly and truly passionate about making people "sign" as special as possible and really go the extra mile. I first found the company back in September when I went to a large mom group on Facebook & typed in the words, "birthday yard sign" and came across a thread of someone asking for referrals. Everyone was highly recommending them so I gave a call... with pretty short notice. I thought for sure the answer was going to be no. They not only said yes but they wanted to know about my sweet 6 year old niece and her interests to make the yard sign the most special and personalized.
I (very unorganized again) called them super last minute to ask for a special 40th birthday sign the NIGHT before the birthday which I didn't realize that meant them needing to go out that same night to do it. They were busy but made it work somehow. They didn't even act like it was an inconvenience or anything. They were so glad to be celebrating the event with us. Because that's what they do. They are truly CELEBRATING the person who's being gifted this awesome sign. Again, they asked about the birthday boy. Interests, colors etc. I asked for obnoxious flamingos and they even had that on deck & threw that in as well.
Chris, Chrissy, Michelle (& anyone else I may not have had the pleasure of working with YET).. you guys are a WOW company. Deserving of all the hype I read about and I had to come on to write this review. I wish your company so many more years of success and will be a forever customer!
Leanne Khayat G.
05:51 25 Nov 20
They were amazing!!! My daughter woke up to a beautiful happy birthday sign!! Sign dreamers came the night before and were amazing!!!!
Happy with my sons 15th birthday sign thank you 😊
We ordered a birthday sign for my 16 year old. Jenn was amazing to work with and went out of her way to adapt the graphics to represent my son's interests. I was a little concerned that at 16, he would think it was silly, but he was so pleased and was even more excited when his friends saw and mentioned it. I will definitely use Jenn and Sign Dreamers again!
Thank you Sign Dreamers for such a beautiful yard sign. Our daughter was over the moon excited to have a birthday sign for her 9th birthday party! We will definitely be calling you when our oldest turns 11 in a couple months!
Candace M.
17:45 11 Oct 20
Thank you for making my daughters birthday so special!!
They were great! Very fast to respond to my request, set up and pick up and quick and easy! And my son was so happy with his birthday sign! I highly recommend them and will definitely use them in the future!
Kristen A.
20:14 08 Sep 20
Sign Dreamers did a fantastic job for my daughter's birthday. She was so pleased to see her name! It looks great and I would recommend this business!
Meg Diffenderffer E.
20:15 28 Aug 20
Thank you so much for starting my mom's birthday with such a wonderful surprise. Amber was great and personable. Great customer service!
Yoshaka F.
12:28 24 Aug 20
I absolutely loved the set up. My son was super excited. She did a very great job and customer friendly. I already have her booked for my other sons birthday.
We were so excited with how our happy birthday yard sign turned out! Brandon was great to work with. I decided to do this last minute and they were able to accommodate me. Thank you Sign Dreamers for making my moms day!!! 🎉❤️
You guys did an amazing job with the sign for my son's birthday. We surprised him with it the next day and he loved it so much! It made his day . We got so many compliments on it from everyone who drove by in the birthday parade . Thank you for your beautiful work and easy and fast communication.
Farah Yassine N.
15:45 27 Jul 20
Brandon is the absolute BEST! I emailed last minute for my daughter's 40th birthday, and she was so happy she cried! Our neighbor loves it so much that she is going to be getting in contact with Brandon. If you want the GREATEST sign out there, and the most caring people to do it, then Sign Dreamers is your go to people for every occasion!
What a lovely surprise to celebrate my birthday. Thanks to Sign Dreamers in the DC/Baltimore area for making my day special!
Jamie White J.
22:51 14 Jul 20
Unfortunately due to Covid, we were not able to travel to florida to wish my nephew a happy birthday....but Susan with Sign Dreamers helped us send the love to him.....they did an amazing job and he was thrilled! Thank you!!
Suzie Moore W.
00:36 10 Jul 20
Birthday Yard Sign Ideas
Here are a few example birthday yard signs to provide inspiration and ideas for your perfect birthday yard greeting.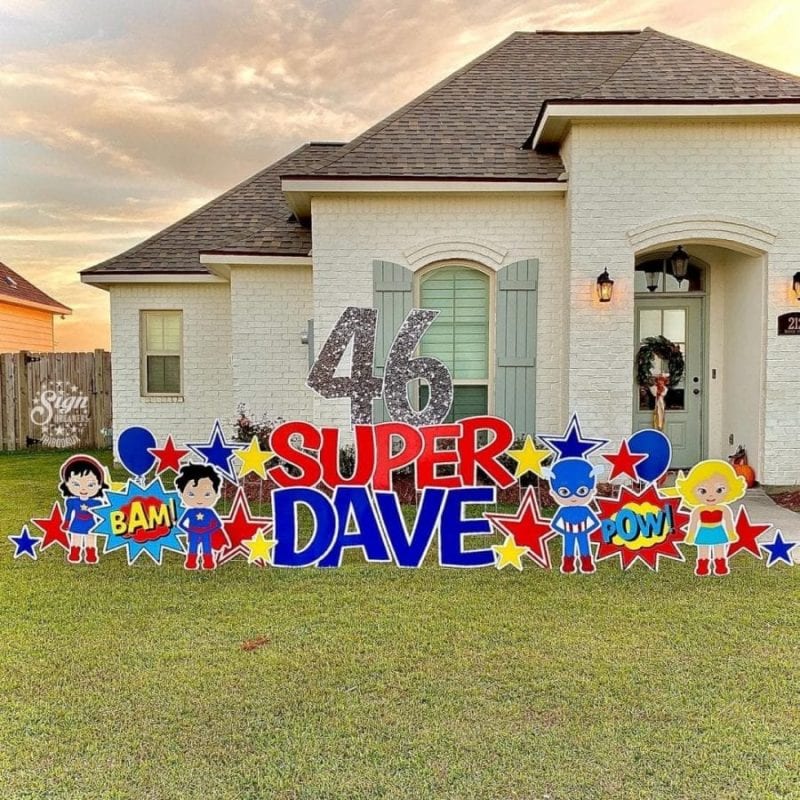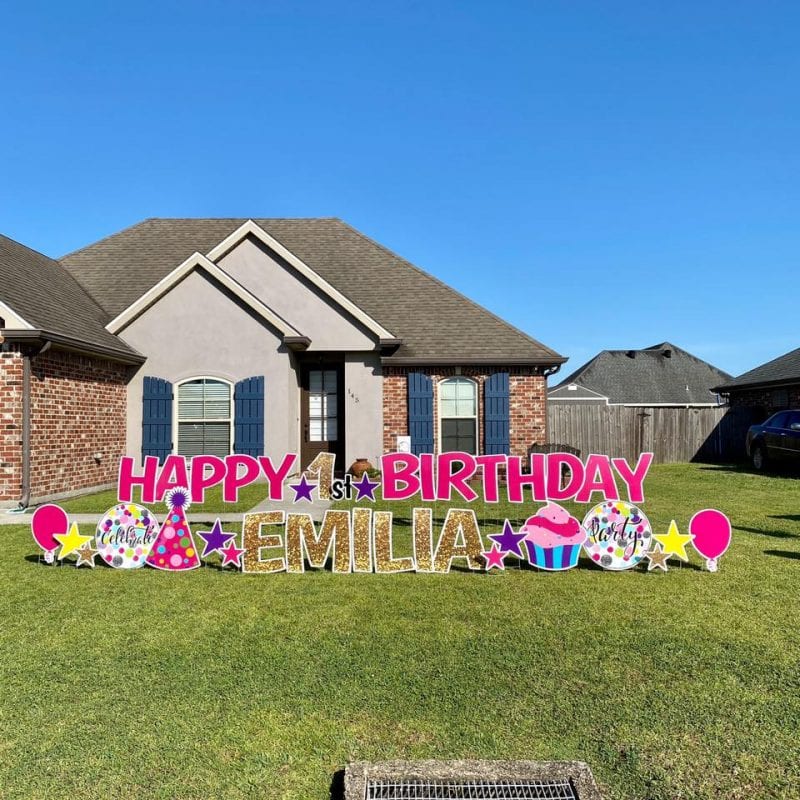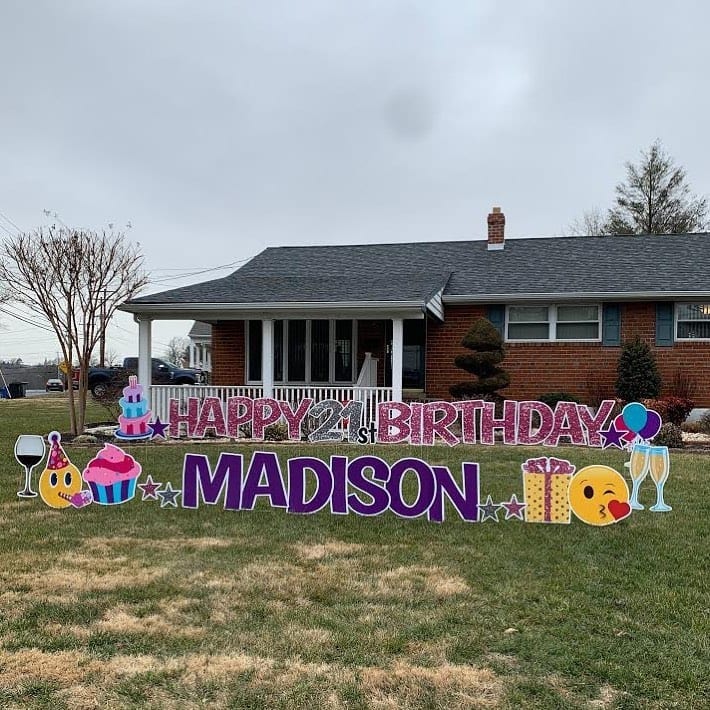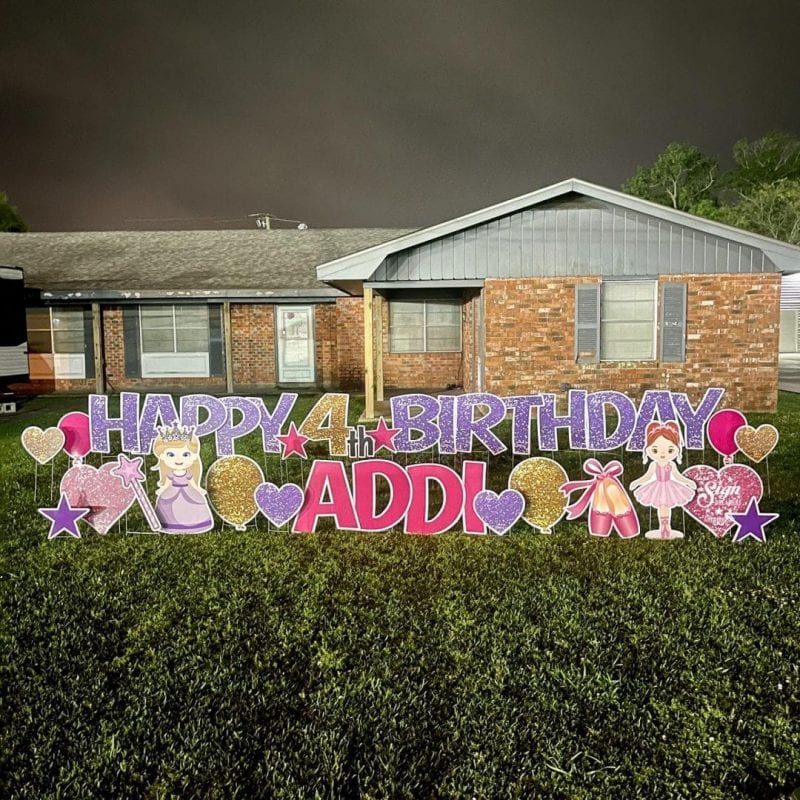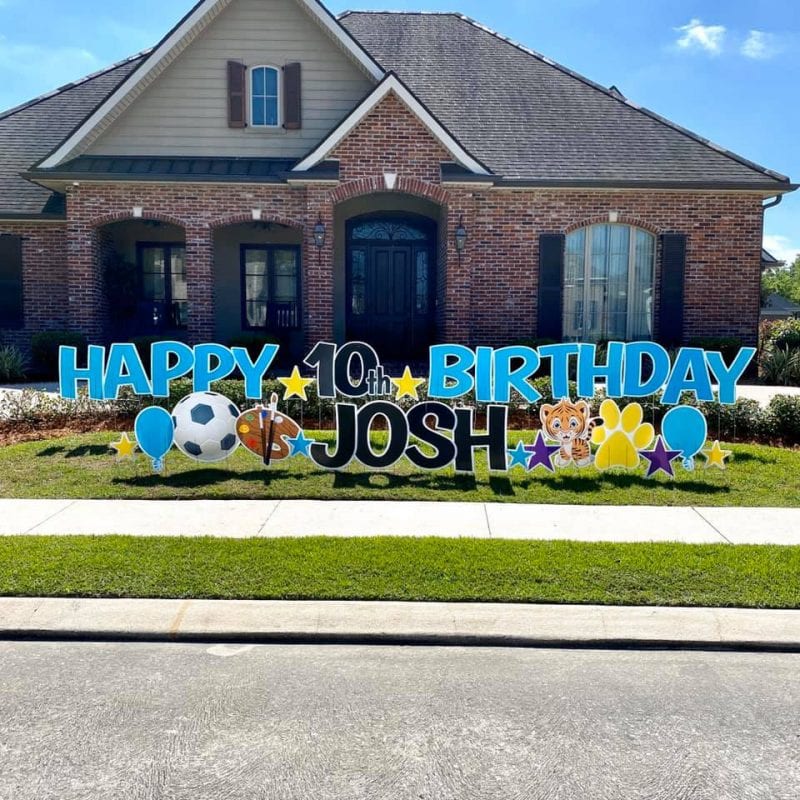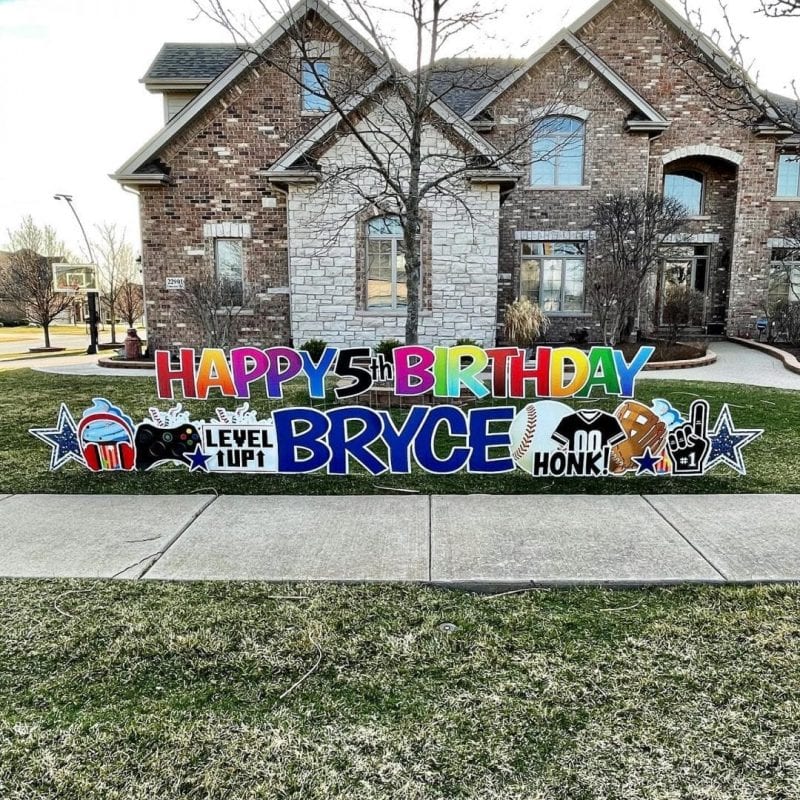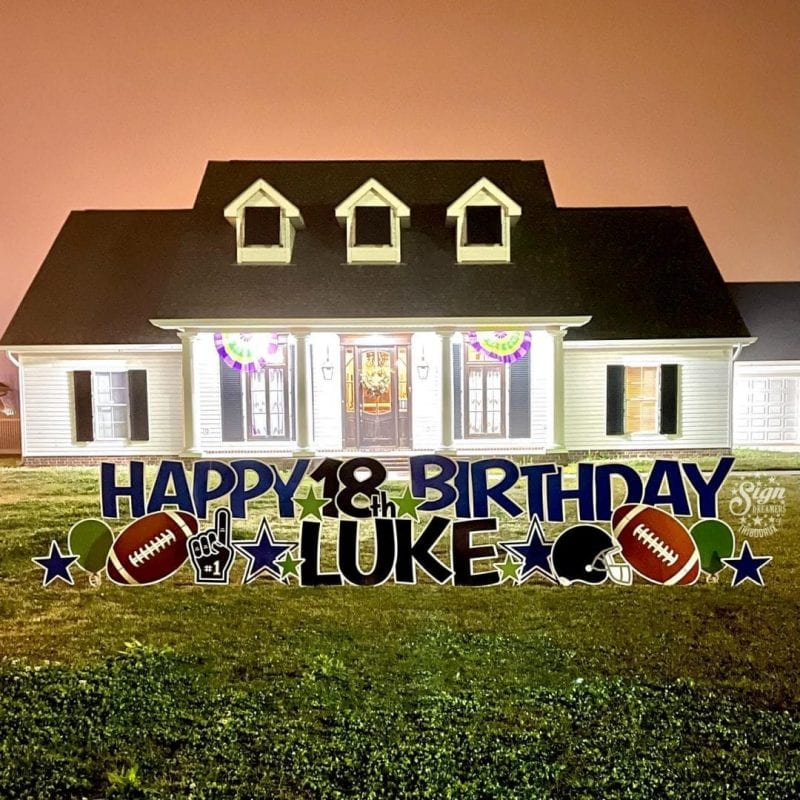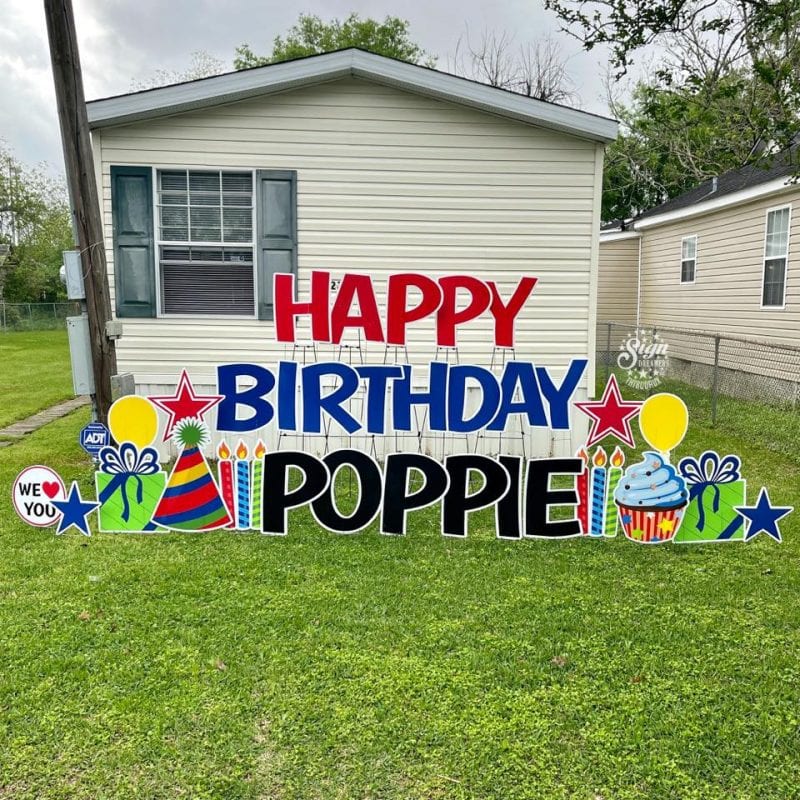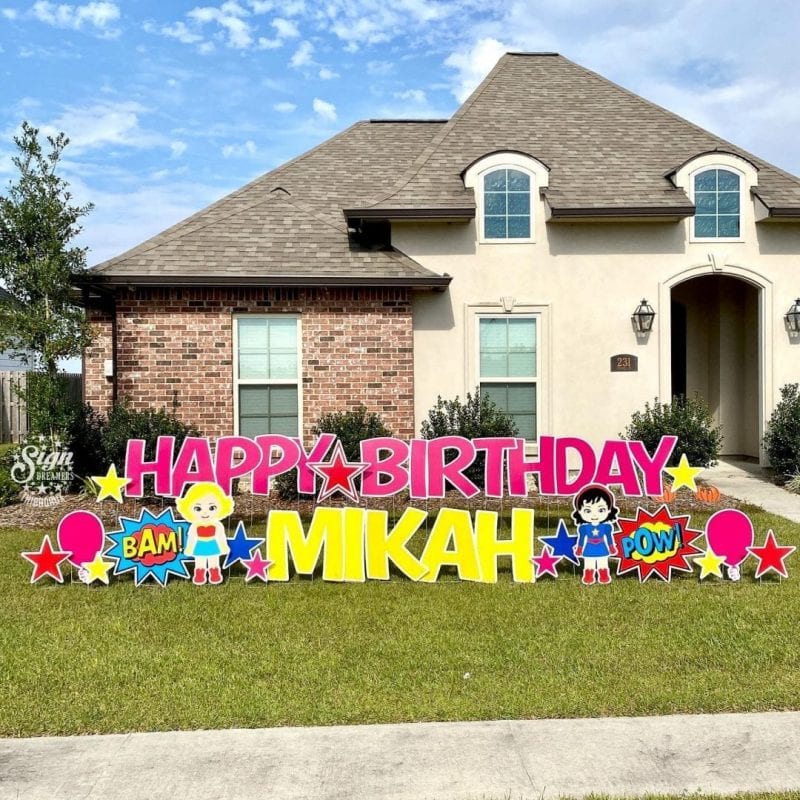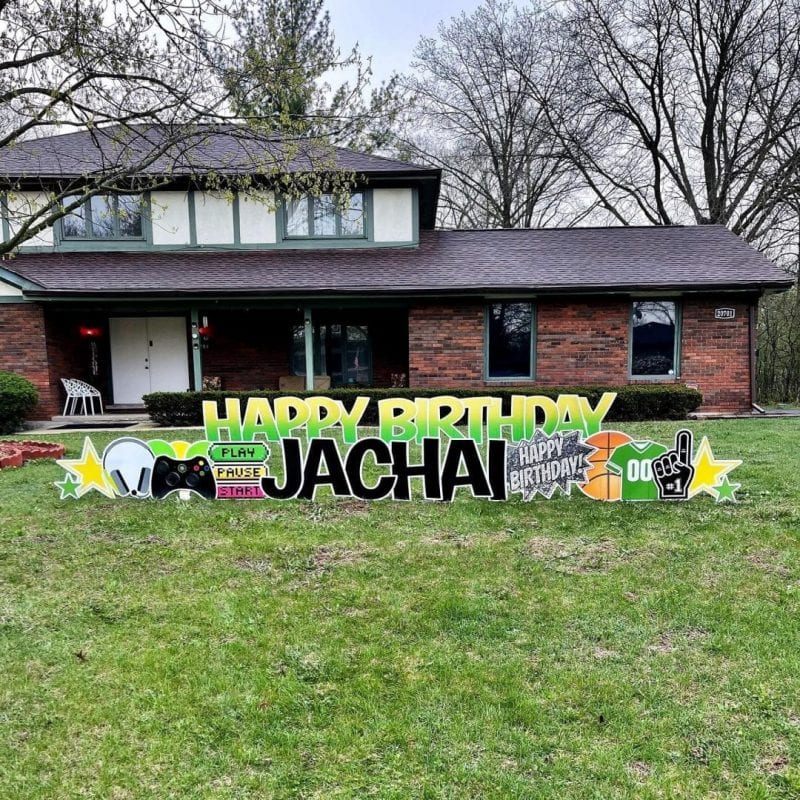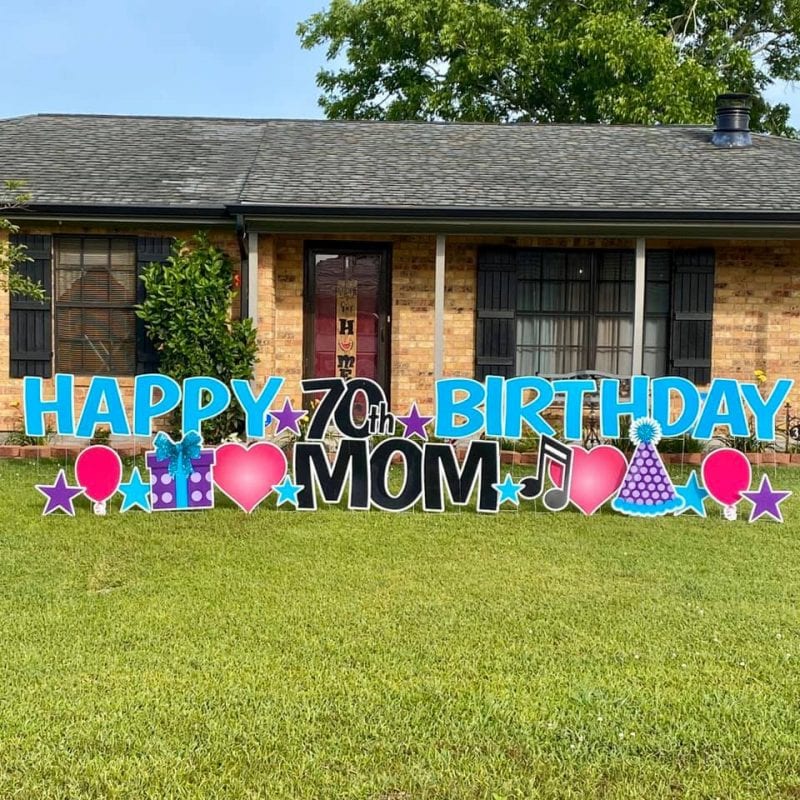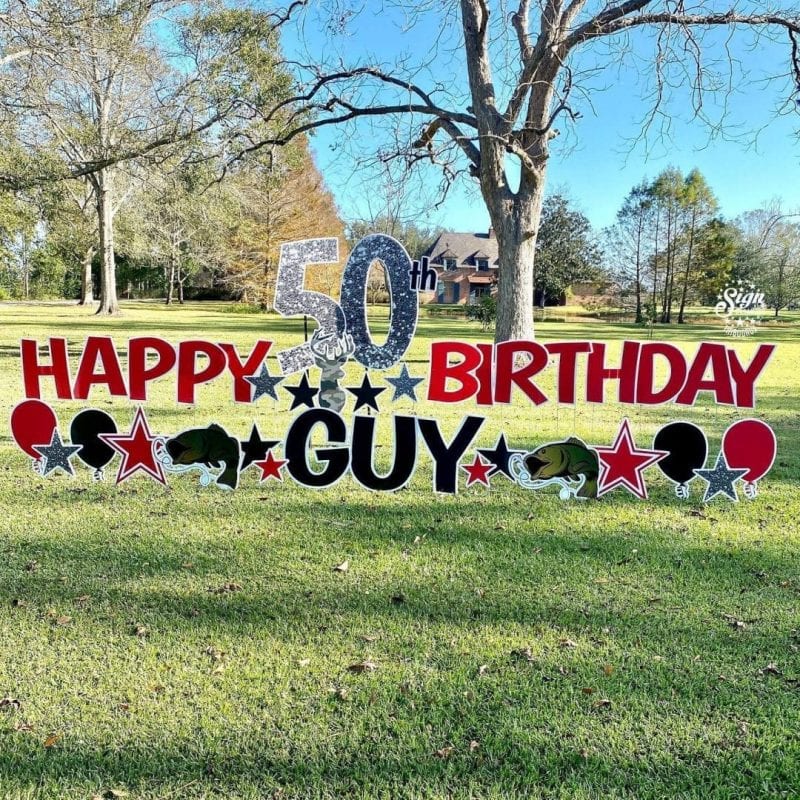 Ready to book your Happy Birthday Yard Sign?
Enter your recipient's zip code below to get connected to your local Sign Dreamer
FAQ
We make renting Birthday Yard Signs simple.