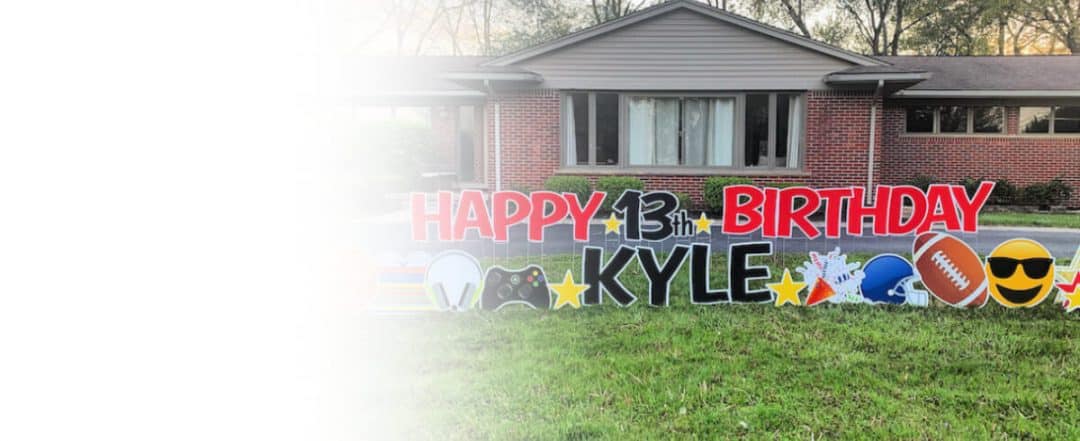 Need sign ideas?
Click below!
---
Contact info
Questions? Comments? We would love to hear from you!
Yard sign pricing & service areas
Serving Laurel, Fulton, Savage, Highland, Jessup, Burtonsville, Spencerville, Clarksville, Dayton, Ellicott City, Columbia, Elkridge, Gleneig, Glenwood, West Friendship and surrounding areas. Prices include delivery, greeting set up and pick up.
$110 - Personalized, Single Phrase Greeting for 24 Hours (for example: a standard "Happy Birthday" yard greeting rental includes Happy Birthday, Age, Name, and Graphics)
$25 - Each Additional Phrase
$75 - Realtor "Open House" Greeting, Based on Availability
$50 - Each Additional 24 hours, Based on Availability
$25 - Rush Fee For Next Day Order
$50 - Rush Fee For Same Day Order
"Happy Birthday" lettering colors currently available: Red, Blue, Pink, Purple, Green, Black, Pink Ombre, Blue Ombre
Full alphabet lettering colors currently available: Black, Silver Glitter, Gold Glitter
Additional mileage charges may apply when driving more than 30 miles for set up and removal of signs
Sample Yard Signs
Want to make someone's day? The greetings from Sign Dreamers Howard County, MD are sure to bring a smile... no matter the occasion!
FAQ
We make renting yard signs simple.
Enter your recipient zip code below to get started!