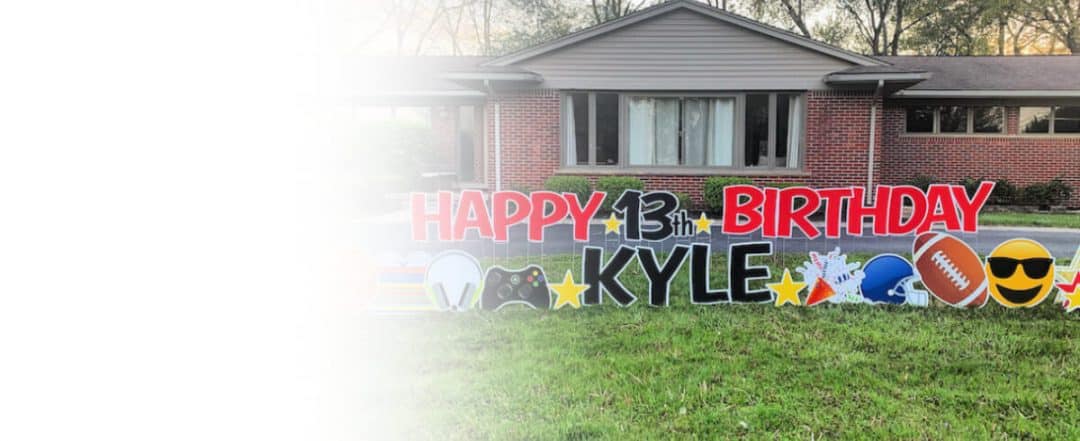 Need sign ideas?
Click below!
---
Contact info
Questions? Comments? We would love to hear from you!
Yard sign pricing & service areas
Serving Bean Station, Dandridge, Jefferson City, Mooresburg, Morristown, New Market, Newport, Russellville, Rutledge, Strawberry Plains, Talbott, White Pine, Whitesburg and surrounding areas. Prices include delivery, greeting set up and pick up.
$85 - One Day Standard Happy Birthday Yard Greeting Rental. Includes Happy Birthday, Age, Name and Graphics
$85 - One Day Rental of a Single Phrase (example: Welcome Home, Happy Birthday, Congratulations, School Events, Sports and Any Holiday). Includes Graphics.
$25 - Each Additional Phrase
$25 - Same Day Orders – Based on Availability
$35 - Each Additional Day – Based on Availability
DUE TO THE INCREASE OF GAS PRICES WE HAVE HAD TO INCREASE OUR COST OF DELIVERY AND PICK UP TO YOU THE CUSTOMER! WHEN GAS PRICES DECREASE SO WILL OUR PRICE!
Sample Yard Signs
Want to make someone's day? The greetings from Sign Dreamers Morristown, TN are sure to bring a smile... no matter the occasion!
FAQ
We make renting yard signs simple.
Enter your recipient zip code below to get started!